I should probably TWEETy this over at Twitter, but I couldn't post pics and links...
Folks, you just can't make this up. In Shelton, Connecticut nineteen (19) people have been arrested for their participation in a CANARY FIGHTING RING. Granted, when I first heard the news, the kind of
fighting canary
that came to mind was different. But imagine my surprise when this turned out to be real!
Police said canaries and saffron finches were seized and 19 people were arrested at a Ripton Road address.

"There was 100 canaries fighting, and they were betting on them 'til they were dead. It's absolutely shocking," said neighbor Marion Sega.

Police said they served a search warrant at the home after receiving a tip that an illegal bird fight involving 150 canaries and finches was scheduled to take place on Sunday.

Police said 150 canaries and finches, their cages and $8,000 in cash was seized from the Ripton Road home.
Yes, it was a cage match.
"When canaries are bred, they'll fight to the death and they don't make the noise that typical roosters make and they don't smell," said Sgt. Robert Kozlowski. "They fall under the radar because we wouldn't think it suspicious if people have a lot of canaries."
So you mean the stereotypical "c
at lady
" is just a cover for an underground crime kingpin...er, queenpin?
Shelton police said the birds were discovered while executing a search warrant with the help of state police, state animal control, the Department of Agriculture and Fairfield police.
So far, 8 names have been released to public. At this time, their still unsure as to whether more will be released. They are checking to see if the defendants are [ahem] miners.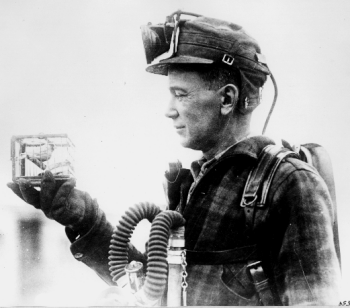 And in case you didn't get the joke, here's another gratuitous picture.
Source.