Reported in the
Guardian
:
Tesco has been accused of religious discrimination after the company ordered the founder of a Jedi religion to remove his hood or leave a branch of the supermarket in north Wales.

Daniel Jones, founder of the religion inspired by the Star Wars films, says he was humiliated and victimised for his beliefs following the incident at a Tesco store in Bangor.
Yeah...I'll bet this aint the first time he's ever been humiliated and victimized over his hoky religion.
The 23-year-old, who founded the International Church of Jediism, which has 500,000 followers worldwide, was told the hood flouted store rules.

But the grocery empire struck back, claiming that the three best known Jedi Knights in the Star Wars movies – Yoda, Obi-Wan Kenobi and Luke Skywalker – all appeared in public without their hoods. Jones, from Holyhead, who is known by the Jedi name Morda Hehol, said his religion dictated that he should wear the hood in public places and is considering legal action against the chain.
"It states in our Jedi doctrination that I can wear headwear. It just covers the back of my head," he said. "You have a choice of wearing headwear in your home or at work but you have to wear a cover for your head when you are in public."

Tesco said: "He hasn't been banned. Jedis are very welcome to shop in our stores although we would ask them to remove their hoods.

"Obi-Wan Kenobi, Yoda and Luke Skywalker all appeared hoodless without ever going over to the Dark Side and we are only aware of the Emperor as one who never removed his hood.

"If Jedi walk around our stores with their hoods on, they'll miss lots of special offers."
Word has it that President Obama stands ready to extend American freedom of religion to the UK - and you can see whose side he's on!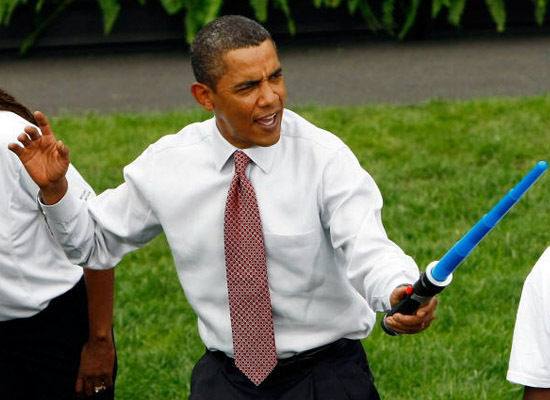 Hmm...the Force is strong with
That One
.
In all seriousness, I think
Tesco
was brilliant in their response.
Now...I wonder if NHS will cover the expense of having a clinical psychologist have a look under Mr. Jones' hood.