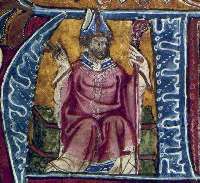 I'm in Atlanta for the
consecration of Dr. Foley Beach to the holy episcopate
. It's an exciting day for me because this is also the Feast of
St. Robert Grosseteste
. Grosseteste was an
Oxford scholar
and pastor before he was appointed bishop of Lincoln. After his episcopal consecration, he surprised his diocese by actually taking the lead in caring for the priests and parishioners under his care. He visited the rural deaneries (way out in the country) and taught the clergy at diocesan synods. Instead of simply making decrees from his episcopal seat and hoping they would be carried out, he visited parishes and told the clergy why certain decisions were made. He refused to admit men to livings (pastoral appointments with a certain income) if he knew they would be sub-letting their cure (paying a poor curate to perform their pastoral duties). That form of abuse was rampant in the medieval church, but Grosseteste even refused to admit a nephew of the pope to a living when he saw that the man was unfit.
Auspiciously, today the Anglican Church is again being given a bishop who is a faithful pastor, a stalwart defender of the faith, a capable teacher, and a true pastor to pastors in raising Foley Beach to the Sacred Order of Bishops. He is surrounded by people who can testify to his commitment to see people's lives changed for the sake of the Gospel. He maintains a full teaching / speaking role even while serving as rector of a growing church. And he has discipled so many young men in their role as presbyters in the Church of God. I couldn't be happier to be here. I couldn't be happier to be part of this movement.
Let all faithful Anglicans thank God for the example of Robert Grosseteste, and his spiritual heir, Foley Beach.
Holy God, our greatest treasure, you blessed Hugh and Robert, Bishops of Lincoln, with wise and cheerful boldness for the proclamation of your Word to rich and poor alike: Grant that all who minister in your Name may serve with diligence, discipline and humility, fearing nothing but the loss of you and drawing all to you through Jesus Christ our Savior; who lives and reigns with you in the communion of the Holy Spirit, one God, now and for ever. Amen.